The unofficial
StereoGraphics
CrystalEYES Wired page
Quick info: The CrystalEyes Wired by StereoGraphics are supposed to be a low-cost alternative to the wireless CrystalEyes CE2 with ENT DIN-3 emitter. The 'Wired' look suspiciously like the discontinued low-cost SimulEyes consumer glasses. Now there's a VESA compliant mini-DIN-3 jack at the end of the wire. Although the glasses come with two rubber nose-pieces to choose from the comfort is far from perfect. The cable is thin and stubborn as those from some other low-cost glasses. The LCD-panels are rather dark and of medium size.
The verdict: The quality of the CrystalEyes Wired isn't satisfying for the professional user who should rather go for the CrystalEyes2 or NuVision 60GX. The high price and the lack of low-cost boards with DIN-3 connector locks the CE-Wired out of the consumer market. The new VESA DIN-3 compliant ELSA Revelator glasses meet and beat the quality and comfort of the 'Wired' in most departments at a fraction of the cost.
What's not taken into consideration here is the amount of support which is granted to professional users by StereoGraphics and its partners. I hope it's good.



This review isn't intended for beginners. Please consult the Basics and FAQ pages if questions arise.
Related Links:
StereoGraphics
CrystalEyes2 review


This page was innitially released on Sept. 25, 1999,
last update: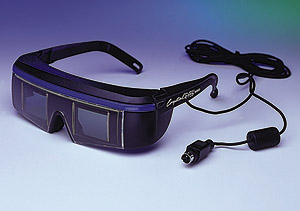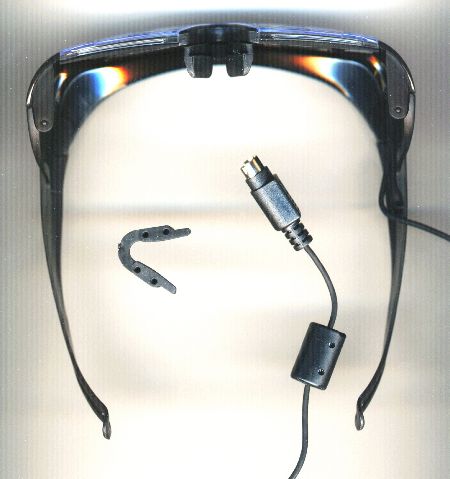 A fixed cable with mini-DIN-3 jack and two nose-pieces to choose from, that's about it.

The VESA miniDIN-3 jack of the CE-Wired fits into all stereo-ready graphics boards. Adaptors for other jacks are available.
The glasses are powered by the graphics board via the DIN-3 jack.
Check the StereoGraphics website for a list of CE-Wired compatible hard- and software.
Please check the X-RAY Lab for a weight&size comparison of various shutterglasses.
---
---
Please consult the Shutterglasses Comparison Chart for a complete market-overview.
Brand and product names are trademarks or registered trademarks of their respective holders.
The author can not guarantee the accuracy or topicality of the information given on this page.
Christoph Bungert, Germany